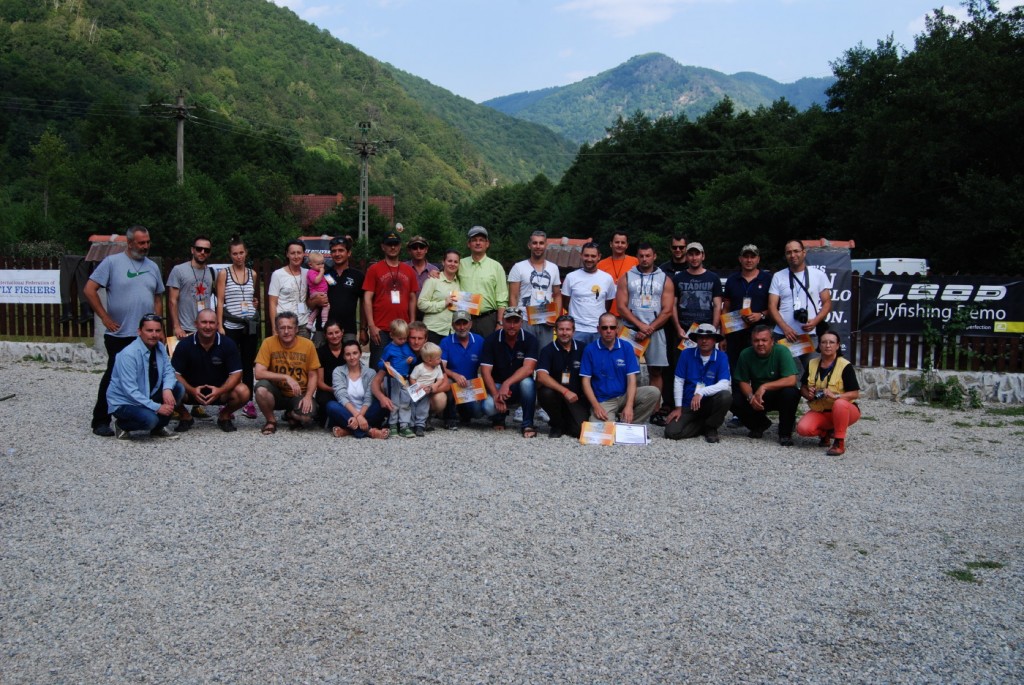 English text below!
Cum a fost?
Nu voi scrie eu aici mult, dar vom sti de la cei care au fost, cel mai bine… http://www.sexyloops.com/2014.shtml?0907
sau interviul scris pentru revista online Pescuit la Musca.ro
http://www.pescuitlamusca.ro/blog-2/files/b8d018b0747870a123dbfffe49795653-114.html
emisiunile realizate de Fishing & Hunting Channel cu ocazia evenimentului:
episodul 1: http://youtu.be/QHpRtW5d27Y
episodul 2: https://www.youtube.com/watch?v=Q-yf2M8R3_k
Editia a 7-a a Muscarici Fly Casting Days, i-a avut ca instructori invitati pe:
– Paul Arden – SexyLoops,
– Thomas Berggren – Karpen Flyfishing International, Fly Rod & Fly Line Designer, IFFF-MCI,THCI. (Suedia)
– Djordje Andjelkovic, IFFF MCI THCI – dezvoltator fire Barrio. (Serbia)
si invitat special pe Tomas Zimsen – Karpen Flyfishing International. (Islanda)
Imagini:
un prim set de imagini: http://www.muscarici.ro/wp/?page_id=360&album=3&gallery=23
setul de la Florin Ivanescu: http://www.muscarici.ro/wp/?page_id=129&album=3&gallery=24
Evenimentul a fost organizat de Clubul Muscaricilor din Timisoara alaturi de echipa de noii muscarici din Deva ( Peti Boldovina si Dan Almasan ).
Povestea asa cum o stiu eu:
A inceput cu multe luni in urma, pornind de la o discutie cu Sasa Zec in Mall in Timisoara, cind am pornit de la ideea unui eveniment mai mare cu mai multi invitati. In paralel aveam discutii cu Thomas legate de noile lui betze si de posibilitatea de a le aduce cu el intr-o viitoare vizita.
Astfel incet a aparut ideea editiei a 7-a care avea la baza ca instructori invitati pe Sasa si Thomas. La auzirea proiectului nostru Djordje ne-a comunicat ca vine si el, caci vrea sa fie prezent intr-un eveniment mai mare aici, lucru care ne-a bucurat. Apoi cu Sasa si Thomas ne-a venit ideea invitarii lui Paul, lucru pe care l-am facut print-o serie de emailuri.
Dupa citeva la care nu am avut nici un raspuns, brusc a venit mailul mult asteptat cu raspunsul pozitiv, a fost o zi mare pentru noi. Aveam in fatza un eveniment mare acum si trebuia sa ne mobilizam exemplar.
Timpul fuge, si in iunie la sfirsit m-am intilnit cu Peti si Dan din Deva pe Riul Mare, sa vedem ce pensiune s-ar potrivi cel mai bine pentru un astfel de eveniment, atunci am setat ca baza, pensiunea Dumbravita, care ni s-a parut o solutie foarte buna caci dincolo de facilitatile pe care le stiam, avea 2 ha de teren ce se pretau perfect pentru casting cu conditia sa fie proaspat cosite.
Intre timp dupa ce vine confirmarea sosirii lui Paul, apare si solicitarea lui Bernd Zieche prin Djordje, in ideea de a veni impreuna cu Paul din Germania.
Se anunta un eveniment si mai mare, iar noi aveam deja in lucru partea de finantare, si ne agitam sa ne acoperim tot ceea ceea ce trebuia facut.
Thomas ne anunta venirea lui Tommy, lucru care ne bucura, caci ne confirma interesul lor in acest eveniment.
In apropierea evenimentului, Paul dupa mondialele din Norvegia, nu reuseste sa obtina o viza pentru pescuit in Rusia, si ca atare vine in Ungaria unde urma sa ne vedem peste citeva zile, Bernd ramine descoperit cu partea de transport si e prea tirziu sa mai gaseasca o solutie accesibila pentru a veni, astfel renunta cu promisiunea de a ne vedea anul viitor la un eveniment similar.
Intram in ultima saptamina inainte de eveniment, parte din materialele vizuale sint gata, pregatirile de finantare sint facute, iar cu sponsorii nostrii stabilim detaliile pentru a beneficia de suportul lor. Mopeka ne promite motorina, Casa cu Flori o cina, Medici's suport financiar, BNB ne trimite birotica necesara, flip board-ul, suportii de ecusoane, etc. Titus trimite la Deva bannerele de eveniment si stabilim cu Peti si Dan ca ei vor ajunge de dimineata primii si le vor monta pina vin participantii. In prealabil ei au mai fost la pensiune sa verifice daca este totul OK, si datorita lor am solicitat o noua cosire a terenului pentru a fi cit mai propice casting-ului. Altfel nu cred ca puteam sa folosim terenul.
Joi dimineata, pornim cu Titus spre aeroportul Budapesta pentru ai intimpina pe Thomas, Tommy si Paul. Cu Paul trebuia sa ne vedem la iesirea din aeroport si sa venim impreuna cu masinile la Timisoara. Totul decurge OK, dar Paul este in intirziere si stabilim ca ne intilnim pe drum spre Romania. La Mako ne oprim la o bere si in final apare Paul in mare fuga, asa ca putem porni linistiti spre Timisoara, unde Djordje trebuie sa fie deja la Castel.
Sasa ne anunta in ultimul moment ca nu poate veni, sotia sa suferind o fractura de bazin.
Joi 29 august ajungem la Castel unde invitatii se intilnesc prima data, si la o cina cu multa bere Caster se stabileste programul de casting pentru cele 3 zile, cu prioritatea pe ordinea in care instructorii vor sustine topicurile lor.
Vineri 29 august la ora 10 pornim din Timisoara in coloana spre Retezat, avem un drum frumos in fata, si o masina puturoasa care face mai mult fum decit un trabant pe vremuri, pentru ca Paul nu a ajuns sa-si repare ceva la motor, asa ca cu parere de rau il lasam la urma, caci altfel toate filtrele noastre de aer, cu snorkel cu tot, ar fi fost pline de funingine ( ma intreb cum a venit pe autostrada asa, forjind masina la maximum sa ne ajunga).
Inainte de a ajunge la pensiune, ne-am urcat pe dealul de la intrare pe vale, pentru a vedea o frumoasa panorama cu toata Tzara Hategului, si ale povesti cite ceva despre zona.
Am ajuns la pensiune unde erau deja sositi participanti, si unde Peti cu Dan, au montat banerele de eveniment, deci am inceput pregatirea pentru incepere.
S-au scos tone de bete, sau montat suportii pe spatiul de casting, s-au mai montat restul de bannere de la branduri si dupa o masa luata in fuga, am reusit in final sa pornim evenimentul cu prezentarea instructorilor, cu cuvintul fiecaruia despre ce va face in timpul alocat, iar apoi Thomas a inceput o scurta prezentare teoretica despre "The 5 essentials".
OK, eram pe directia buna, apoi ne-am dus pe terenul de casting si am inceput workshop-ul sau despre "Learn to adapt your casting technique to any rod and line, will makes it easier to choose your personal favourite" unde am avut ocazia de a incerca primele betze realizate de el, 5 betzte de casa 5 cu actiuni diferite de la MF la F in 5 etape diferite. Prima impresie – foarte buna, betze usoare, clare, curate in actiune, realizate impecabil. Nu mai imi venea sa mai pun mina pe Evotecul meu de casting.
Timpul trece repede, incercam betele cu diferite fire, si desigur impresiile sint foarte diverse pina ajungem sa ne definim care este batul cel mai potrivit pentru fiecare din noi, in ce configuratie. O exeprienta foarte buna si formatoare.
Vine seara cu repeziciune, si dupa o cina foarte buna, ne pregatim pentru conferinte, Punem pe ecran prezentarea cu istoricul evenimenteor noastre, si ii dam drumul, curge bere Caster riruri, riuri, dupa ce ne dam seama ca dintr-o incurcatura de la print avem totul imbuteliat exact pe dos, deci marea noastra lansare a noii beri Caster Gold, unde aveam pregatite 180 de sticle a devenit o singura lada, iar berea Caster platin care trebuia sa fie pentru discutiile intre cluburi, era acum din abundenta.
Deci, sa curga atunci, caci oricum era dat totul peste cap, spre bucuria celor prezenti.
Thomas cu Tommy si-au pornit prezentarea, si astfel am avut parte de conceptul lor despre a face seriile mici de betze custom pentru cluburi si asociatii in cca 50 de bucati, cu actiunea dorita. Dupa aceasta am vazut citeva imagini din timpul productiei lor in fabrica GS.
In urma acestei prezentari, George Minculete, owner-ul brandului de betze custom Tightloop, a prezentat ultimele lui creatii, si a prezentat conceptul sau de a construi betze custom pe diferite blankuri de carbon si fibra de sticla. Seara a trecut cu repeziciune, si cu beri la bord s-a incins o mica competitie de aruncat firul cu mina prin usile pensiunii, competite pe care Thomas a cistigat-o cu detasare (cca 1 m).
Sambata 30 august, incepe greu, lumea e buimaca dupa o noapte scurta, plina de "bufnite" (Paul se duce la culcare pe la 6.30 dimineata)
La 10 pe terenul de casting Djordje incepe demostratia sa despre "Body movement in casting tehchniques", o demostratie simpla dar foarte necesara. dupa care se face workshopul in continuare. In acest timp sosesc si cei de la S1waterbike cu cele 2 modele comandate si le montam pentru a fi vazute. Inainte de prinz se stabileste ca o parte din workshop sa fie facuta pe lacul Ostrov de la iesirea de pe vale, si pornim spre lac. Paul este mort de somn si pina acum, nu-si face aparitia.
Dupa un prinz bun, Paul rasare si urmeaza partea sa de demostratie si workshop. Este partea cel mai mult asteptata si totul intra in normal. Target Casting, Distance casting, si bine inteles Paul Distance Casting care e o experienta interesanta, foarte OK, totul tinind cont ca a doua zi urma un concurs de casting. Timpul zboara si ajungem in partea serii cind Paul isi prezinta echipamentele Sexyloops, citeva betze noi si fire, dar cel mai interesant lucru este un Lumiline, fir cu fosfor, ce se poate incarca cu lumina, si se poate folosi noaptea pentru pescuit si casting. Cool!.Abea astept sa am unul!
Urmeaza o scrta prezentare  a lui Djordje legata de firele Barrio, si dincolo de faptul ca sint multe si le incercam in aceste zile, aflam ca se dezvolta cca 2-3 fire noi pe an, nu mai mult.
In urma prezentarii lui, ne incepem discutiile despre ce si cum facem mai departe ca si cluburi impreuna si in urma unor discutii prealablile pe forum stabilim ca cei prezenti putem sa facem mai mult impreuna, putem sa ne reprezentam reciproc in actiuni mai largi pe plan national si international, astfel am semnat un protocol de colaborare. Cele 6 cluburi prezente in discutii au hotarit ca genul asta de evenimente sa le putem face in viitor impreuna. S-a discutat si situatia in FRPMA, relatia cu Aqua ca exponent al AGVSR si s-a discutat in ce masura hotarirea de dizolvare a ei luata deja merita dusa la bun sfirsit. S-a stabilit necesitatea unei AG cit mai repede pentru a clarifica daca hoarirea de dizolvare intra in vigoare, si daca nu, ce ar trebui facut pentru a se opri blocarea activitatii FRPMA.
Am stropit cu berea Caster acest moment intercuburi, cu berea special pregatita pentru asta, si iara s-a facut tirziu in noapte.
Duminica dimineata, ne-am adunat mai greu, urma sa aibe loc demonstratia comuna a celor 3 instructori pe tema Spey Cast cu bete de o mina, s-a hotarit ad-hoc ca o vom face pe lac, si am plecat pe Ostrov din nou la lucru. Demostratia a inceput-o Djordje, apoi Thomas si in final Paul.
Ne-am intors la pensiune pentru a pregati competita de casting.
Paul, Thomas si Djordje au stabilt regulile, echipamentul si locul, astfel pe terenul de casting s-a pus ruleta cu markere de distanta, am avut un Hot Torpeedo de la Sexyloops scurt de clasa 4 (prototip) si un nou fir de la Barrio DT de clasa 4 (prototip) ca echipament. Fiindca nu prea vroia sa se inghesuie lumea, am inceput eu primul, apoi Titus si tot asa mai departe, caci nu stiu la cite competitii voi mai participa in care Paul sa ma cronometreze pentru acel minut la dispozitie stabilit, si de cite ori Thomas si Djordje imi vor masura fiecare aruncare. Incet incet am ajuns la 15 participanti.
Clasament:
1 George Minculete – Sf. Gheorghe – 25.80 m
2 Zoltan Nagy – Tg. Mures – 23.80 m
3 Titus Nicoara – Timisoara – 23.60 m
4 George Pamp – Sibiu – 23.20 m
5 Tudor Vreme – Timisoara – 23 m
6 Cosmin Gheorghe – Bucuresti – 20.60 m
7 Dan Olescher – Timisoara – 20.50 m
8 Valentin Budau – Bucuresti – 20.40 m
9 Octavian Stan – Brasov – 20.30 m
10 Ciprian Cindea – Timisoara – 18.90 m
11 Bogdan Carpenisan – Timisoara – 18.40 m
12 Dan Almasan – Deva – 17.90 m
13 Alexandru Varga – Deva – 16.80 m
14 Sorin Bozdog – Sibiu – 16.40 m
15 Alexandru Popa – Timisoara – 14,10 m
.
Clasament instructori:
1 Paul Arden – 32 m
2 Thomas Bergren – 28.45 m
3 Djordje Andjelovic – 27.60
Astfel: George Minculete a fost cel mai bine clasat, si si-a adjudecat o sapca Sexyloops de la Paul.
A urmat festivitatea de inchidere a evenimentului, in care dincolo de diplomele de participare si cele de la concursul de casting, Muscaricii au acordat citeva titluri: Paul si Djordje a devenit Membru de onoare al clubului nostru, Thomas a devenit instructor asociat, si Tommy a primit titlul de Muscarici.
Djordje a inchis actiunea clubului nostru de ajutorare a sinistratilor din Serbia, prin oferirea de cutii de muste legate de muscari sirbi, ca semn de multumire pentru banii strinsi si lucrurile adunate ca ajutoare. Ne-a multumit celor de fata ( caci Musca 13, Dan Olescher erau de fata) si astfel evenimentul s-a incheiat cum nu se putea mai bine.
Lumea a inceput a se stringa, si sa plece spre casa, Titus i-a luat pe Thomas si Tommy si a plecat cu ei spre Timisoara, ei avind dimineata zbor spre Stocholm, eu am ramas cu Djordje si Paul pentru un pescuit pe riurile din munte, si pentru a mai rezolva partea de filmare cu prinsul de pesti pentru Fishing & Hunting Chanel.
Zis si facut, ne-am pornit spre Lapusnicul Mare, pentru a le arata instructorilor zona, si pentru a pescui pentru citeva ore. Ne-am dus desupra podului din amonte de Rotunda si am inceput sa pescuim in gasca destul de mare, cu 3 omanei de televiziune cu noi.
S-au prins citva pastravi, au fost imortalizati cu camerele video si seara dupa ce ne-am intors dupa un trepied lasat pe marginea apei, am ajuns cu bine la pensiune. Tuici, berici, povesti ca deobicei, ne-am setat planurile pentru a doua zi. Paul avea sa mearga pe Ses cu Peti si Dan, eu aveam sa ma ocup de Djordje si echipa de filamre pe Lapusnic si apoi sa ne ducem pe Ses.
Astfel ne-am apucat de pescuit fiecare pe iul lui, si urma sa ne vedem dupamasa pe Ses, ca de acolo sa pornim spre casa. A fost o zi superba, cu pesti multi dar mici, am prins si la uscata si la nimfa in egala masura, iar apa a fost incredibil de frumoasa. Dupa ce am terminat filmarile pe Lapusnic, ne-am dus pe Ses si am mai pescuit un pic si acolo, intilnidu-ma cu Djordje la o bulboana unde muscareau citiva pastravi. Minunat!
Am ajuns la masini unde Paul era deja sosit din partea de sus a Ses-ului, si dupa o scurta dezechipare, am pornit spre Timisoara unde seara eram asteptati la Casa cu Flori pentru o cina. Am reusit sa-i plimb putin prin Timisoara impreuna cu Boris, sa le aratam partea de centru a orasului, si tirziu in noapte ne-am intors la Castel.
Dimineata urma o cafea impreuna si plecarea lor spre casa.
Cam asa a fost, si sincer sa fiu, a fost tare bine. Feedback-urile pozitive au inceput sa curga pe FB, participantii erau incintati de eveniment, iar noi cu Titus am ramas cu bucuria unui lucru bine facut.
Programul evenimentului Brief:
Joi:
– 21.00 seara cina cu instructorii, hotel Castel Timisoara ( spre Mosnita Noua )
Vineri: sosire si introducere
– 10.00 plecare din Timisoara spre Riul Mare Retezat ca sa ajungem inainte de prinz, intilnire cu organizatorii din Deva, prezentarea zonei pentru instructori
– sosire participanti
– 15.00 prezentarea instructorilor si impartirea pe grupe, inceperea evenimentului
– 15.30 Thomas Berggren Casting Demo – Basic Casting sau Advanced Casting ( in functie de grupa )
– 16.30 Casting Workshop
– 18.30 Casting Clinic
– 19.30 – 20.00 cina la pensiune
– 21.00 conferinta despre dezvoltarea de echipament, focus betze de FF si Casting, sustinuta Thomas Berggren si Tommy Zimsen, Karpen Flyfishing, si George Minculete, Tightloop
Simbata: zi de casting
– dimineata, mic dejun
– 10.00 Djordje Andjelkovic, Demo Workshop, Casting Clinic
– 14.00 prinz
– 15.00 Paul Arden, Demo Workshop, Casting Clinic
– 19.30 – 20.30 cina
– 20.30 conferinta despre dezvoltarea de echipament, sustine Paul Arden, Djordje Andjelkovikc, lansare Bere Caster Gold, discutii
Duminica: competitie si inchiderea evenimentului
– 10.00 mic dejun
– 11.00 Demo Spy casting sustinut de cei 3 instructori, workshop pe lac Ostrov, Competitie de casting distance.
– 14.00 – 15.00 inchidere eveniment, premiere, prinz
– pescuit pe Lapusnicul mare
– seara, cina cu instructorii la pensiune si in Timisoara pentru Thomas si Tommy
Luni: pescuit:
– 10.00 Lapusnicul mare (Djordje, eu, Fishing & Hunting Channel), Ses (Paul, Peti, Dan, Alexandru Varga)
– 17.00 adunat la masini si pronire spre Timisoara
– 23.00 cina la Casa cu Flori
Marti: plecare instructori:
– 9.00 cafea la Castel, povesti
– 10.00 pornire instructori spre casa
Echipament prezent in eveniment: Karpen Flyfishing, Sexyloops, Loop, Echo, TightLoop, Barrio, S1waterbike.
Lista participantilor la eveniment:
Peti Boldovina (Deva)
Dan Almasan (Deva)
George Minculete (Sf. Gheoghe) + insotitor
Titus Nicoara (Timisoara)
Tudor Vreme (Timisoara)
Carpenisan Bogdan (Timisoara)
Alexandru Popa (Timisoara)
Cristian Cindea (Timisoara)
Octavian Ardac (Bucuresti)
Beatrice Ardac (Bucuresti)
Octavian Stan (Brasov)
Nagy Zoltan (Tg. Mures) + insotitor
Valentin Budau (Bucuresti)
Alexandru Cristian Sztrimbely (Deva)
Florin Ivanescu (Timisoara)
Mihai Gheorghe (Sibiu) + insotitor
Octavian Voinea (Sibiu)
Dan Visinescu (Deva)
George Pamp (Sibiu)
Sorin Bozdog (Sibiu) + insotitor
Cosmin Gheorghe (Bucuresti)
Alexandru Varga (Deva)
Mihai Herlea (Orastie) + insotitor
Dan Olescher (Timisoara)
Malin Musatescu (Bucuresti) + 2 insotitori
Ioan Bogdan (RNP, Riul Mare) + insotitor
Alexandru Mihailescu (RNP, Pui)
Gabriel Colda (RNP, Brazi)
Stefan Sajgo (Bucuresti)
Din temele de workshop-uri si conferinte prezente in eveniment:
Thomas Berggren, IFFF MCI THCI si Tommy Zimsen, Karpen Fly Fishing:
Friday 29 Aug: Presentation: "Develop & producing tackle" – conference
Saturday 30 Aug: Workshop and Casting clinic. Subject – "Learn to adapt your casting technique to any rod and line, will makes it easier to choose your personal favourite"
Sunday 31 Aug: Casting Demo: "Presentation casts isn't always a straight line cast"
Paul Arden
Saturday 30 Aug.: "Refining the overhead cast, Speycast- demo, workshop, casting clinic,
Sexyloops gear development – conference, presentation
Djordje Andjelkovic, IFFF MCI THCI – 30 August:
Saturday 30 Aug.:"Spey casting with single handed rod connected to roll and switch cast". Barrio lines development – conference
Sunday 31 Aug. – Demo "Body movement in casting tehchniques"
—
English text:
Muscarici Fly Casting Days, 7th edition has as invited guests:
– Paul Arden, SexyLoops,
– Thomas Berggren, Karpen Flyfishing International, Fly Rod & Fly Line Designer, IFFF MCI, THCI.
– Djordje Andjelkovic, IFFF MCI THCI Serbia.
– Tomas Zimsen – Karpen Flyfishing International
It was organized by Clubul Muscaricilor from Timisoara together with Peti Boldovina and Dan Almasan from Deva.
Casting techniques and gear – the inner side!
– Casting demos
– Casting Workshops
– Casting Clinic
– Conferences about designing and developing FF Gear
– Casting competition
– Casting gear
– Caster Beer ( our club beer ), the brand new Caster Gold!
– National FF Club meeting
The event started Friday August 29th, and was over in Sunday August 31th.
Location: Romania, Retezat Mountains ( Hateg County ), Dumbravita pension on Riul Mare Retezat.
Workshops and conferences topics:
Thomas Berggren, IFFF MCI THCI si Tommy Zimsen, Karpen Fly Fishing:
Friday 29 Aug: Presentation: "Develop & producing tackle" – conference
Saturday 30 Aug: Workshop and Casting clinic. Subject – "Learn to adapt your casting technique to any rod and line, will makes it easier to choose your personal favourite"
Sunday 31 Aug: Casting Demo: "Presentation casts isn't always a straight line cast"
Paul Arden
Saturday 30 Aug.: "Refining the overhead cast, Speycast- demo, workshop, casting clinic,
Sexyloops gear development – conference, presentation
Djordje Andjelkovic, IFFF MCI THCI – 30 August:
Saturday 30 Aug.:"Spey casting with single handed rod connected to roll and switch cast". Barrio lines development – conference
Sunday 31 Aug. – Demo "Body movement in casting tehchniques"
Our story
Thursday:
 A nice dinner with invited instructors, at hotel Castel Timisoara, seting up the workshops, after we arrived from Budapest airport with Thomas and Tommy and Paul. Djordje arrived from Nis to Castel an half an hour earlier.
Friday:
In the morning we started to drive from Timisoara to Riul Mare by car, we arrived there before noon, and after we see the area from a nice panorama view, we drove to the pension. The road was in a bad shape so Paul manage to have a double flat to the left wheels of his car. Finally after some mechanics we manage to reach the spot so we could start the event in time. After a short presentation of our invited guest, Thomas start the first demo with the 5 essentials a theoretical presentation. Than we went on the lawn to start the workshop. Here we could try 5 different Karpen rods with 5 different action to see what action suits best each of participants, great rods – I have to say.
In the evening we start our conferencing part with a short presentation of our club activities and a short reminder of the history of Muscarici Fly Casting Days.
Thomas and Tommy had the Karpen Fly Fishing presentation, where he had their concept of producing custom rods and we saw some images from the production process. Than George Minculete from Tightloops presented his custom rods concept and some nice pieces he made for this event.
Night was coming and guys where having the Caster beer to their disposal, so many things goes late in the night.
Paul and Thomas start to make a short contest of hand casting, and Thomas manage to have the longest cast, through 2 entrance doors till the end of the living room.
Saturday: casting day
Start with the Djordje workshop about body movement, a nice demo about enhancing the casting capabilities using you whole body. Later we went to the Ostrov lake for a session of double hand casting on water, and we tried the latest models of S1waterbikes.
In the afternoon Paul has his demo and workshop about target casting and distance casting, on his own style.
In the evening we had a short presentation on Sexyloops gear presented by Paul, some rods prototypes and that lumi line that they are producing for night casting and fishing. After that a short presentation on developing fly line for Barrio held by Djordje. Later after the conferencing was over the 6 FF Romanian Clubs start a short session of discussions about the FF future and what is need to be done together.
Caster beer flows all evening. The Caster beer Gold was launched having Thomas on it's labels, as a gratitude for his teaching over 2 muscarici events.
Sunday:
Was started on Ostrov lake shore for a demo about Spey casting on water, T-snap, Z-snap, workshop made by all 3 instructors. After that we had a distance casting competition, using a Hot Torpedo Sexyloops prototype, weight 4 and a DT prototype Barrio line, so Paul keep timing for 1 minute/participant and Djordje and Thomas measured the longest cast. We had 15 participants and the first place come to George Minculete from Sf. Gheorghe with 25,80 m. So he win a Sexyloops cap straight from Paul head :). 
After that we had the closing ceremony, and we announced the titles gained by our invited guests: so Paul and Djordje became our club Honorary Member, Thomas became our Asociate Instructor and Tommy became a "Muscarici". In the end after participation diplomas that everyone had, Djordje finished the event with our helping Serbia flads action, and give to the ones that participated in raising money action a box with flies from serbian flyfishers.
The event was over, the Fishing and Hunting Channel makes their last interviews, and we split apart. Thomas and Tommy went with Titus to Tmisoara, cause next day they have to reach their flight to Stockholm, I went with Paul and Djordje for fishing in the upper area. So we had a nice afternoon fishing on the Lapusnicul Mare. The area is very beautiful, at 1800 m high, in the core of Retezat Mountains.
Later in the evening we had a nice dinner and we planed the fishing for the next day.
Monday:
We split apart to cover a larger area, so Paul went to Ses river, Djordje and I went to Lapusnicul Mare river in the upper area we finished last day. We filmed more landed fish for the Fishing and Hunting Channel, and in the afternoon we went to Ses river to see what Paul manage to do there. We meet hem around 5 PM and we start to drive to Timisoara.
We spend a little time touring the center of town, and we had a nice dinner at Casa cu Flori restaurant that was one of our sponsors for the event.
Tuesday morning we went to Castel Hotel to have a nice coffee all together and than Paul and Djordje start to drive home.
We had a great time together, and a nice event. People where enthusiastic many days after the event. Paul write a very nice feedback on sexyloops site, and FB was full of images taken by each participant.
Brands at the event: Karpen Flyfishing, Sexyloops, Loop, Echo, TightLoop, Barrio,  S1waterbike.
We have more than 30 participants from: Cluj, Bucharest, Brasov, Deva, Sibiu, Baia de Aries, Sf, Gheorghe, Tg. Mures and Timisoara (look above at the bottom of Romanian language)
Please enjoy the Photos and feedback
Paul's feedback: http://www.sexyloops.com/indexsun.shtml
Photos first set: http://www.muscarici.ro/wp/?page_id=360&album=3&gallery=23
Photos second set: http://www.muscarici.ro/wp/?page_id=129&album=3&gallery=24